Thursday at 7:00pm until Tuesday, February 28, 2012 at 12:30am
Menagerie  :  An Anthropomorphic Art Show
"Menagerie" is an art show that engages the imaginative exploration of anthropomorphism – the attribution of human qualities to nonhumans. Through visual study, nineteen local up-and-coming artists will explore the idea of anthropomorphism as a form of self-extension. As we "humanize" nonhuman entities, personal relationships are established, and a special – sometimes disturbing – attachment is then applied to the animal or object. This can be seen from our naming of pets, to drawing faces on inanimate objects, to shouting at a car when it has broken down. Through us, the animal/object takes on its own humanity. The result of this visual exploration is a modern bestiary – a collection of creatures, human and nonhuman, situated and interacting in contemporary society.
A group show featuring our own
Alëna Skarina
Join them for the Opening Night Party, Thursday February 2nd 2012 from 7-11 pm. Steam Whistle Brewing, The Roundhouse, 255 Bremner Blvd.,Toronto or visit the brewery during all of February long to check out the exhibition.
http://www.steamwhistle.ca/events/eventdetail.php?id=625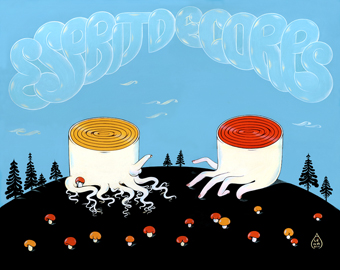 January 31, 2012